November 29, 2012 - 9:23 am - Posted by Sean
Reverse Enginears is a digital creative agency that specializes in A/V re-sequencing. AKA "remixes."
Their remixes have been featured in advertising campaigns for Disney, Marvel and GM, and have been watched millions of times on YouTube and elsewhere.
Source: Video at Polygon
I'm a huge fan of Donkey Kong and as a child I loved playing with Legos. Put the two together and you get the following video:
Of course this isn't a perfect reproduction, but it's still a really good stop motion interpretation of Nintendo's Donkey Kong IMHO.
Well most of the framework is now in place for my collection pages, so now comes the fun part… to add pictures and detailed console pages for each system.
I've also got my Flash arcade game room up and running too, so be sure to check it out and see if you can get a high score on some of the games.
As the saying goes, I'll be adding more content to Golden Age Of Gaming as time permits. With that being said, the game is never over.
Check out this totally retro TV advertisement for the Nintendo Game Boy Advance SP Classic NES Edition:
I completely forgot this ad had music from the synth pop group Yaz. The song is called "Situation" off their 1982 album "Upstairs At Eric's".
There was a time when you couldn't step into a dance club or a roller skating rink without hearing at least part of this song booming over the sound system.
Anyway, back to playing some retro games on my Game Boy Advance SP NES Edition.
A few months ago I was working on Frogger for my Golden Age of Gaming free play game room.
Below are a couple screen shots from my work back then getting the basic concept, graphics, characters and layout in place: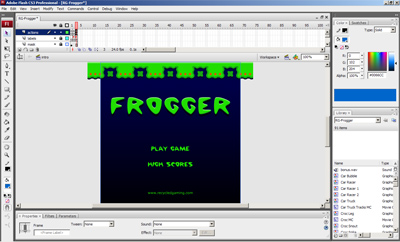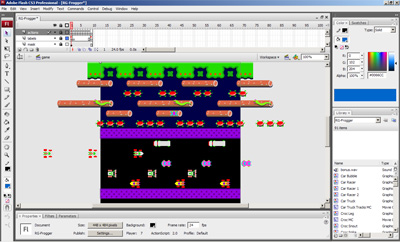 A few friends have sent messages asking what software I use to create such fun and colorful video games.
The short answer is the Adobe Flash CS3 creative suite.
When you get the chance, be sure to check out Frogger and see if you can get on the letter board.
What do you get when you mix a Simpson's episode with one of my favorite classic 8-bit Nintendo games? Watch the below video to find out:
I love it when TV shows mix in a little classic gaming with humor. I think Homer Simpson makes a pretty convincing Donkey Kong. What do you think?
2600 Online is a website that features over 50+ classic Atari 2600 games that you can play online for free: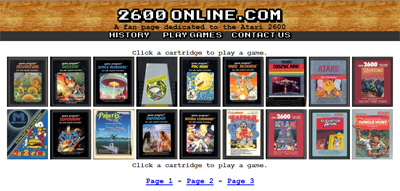 The site is getting a ton of traffic, so you might have to try a couple of times before you can actually get on and play. I'm sure traffic will die down soon.
Also, don't forget about my free online retro arcade.
I've played Popeye on a number of the classic consoles, but the NES version seems arcade-perfect.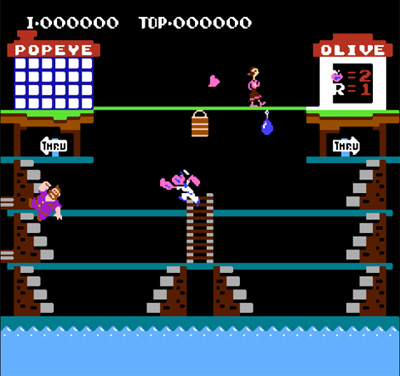 The vibrant graphics are very high in resolution and exhibit no hint of flicker. The characters are faithful to their cartoon roots, even conveying trademark expressions and mannerisms.
Popeye must traverse three screens of platforms in an attempt to collect items tossed out by Olive Oyl at the top of the screen. In the first screen it's hearts, in the second it's musical notes, and in the third (pirate ship screen) it's letters that spell out "HELP". Read the rest of this entry…
I was a child of the early 1970′s, so I've been around gaming and consoles for over 30+ years now.
As you will see by going around my site, I've got a ton of classic video game stuff in my personal gaming collection ranging from Atari 2600, Commodore 64, Nintendo and Sega.
I'm also into modern gaming as well with systems like the Microsoft Xbox 360 and Nintendo Wii.
Since I'm a web designer and programmer by trade, I figured it was time for me to put up a website dedicated to my collection.
From time to time I will also have game reviews and other bits and bytes of gaming news and information on the site.