August 7, 2013 - 2:24 pm - Posted by Sean
The video game console wars explode into song in this "School House Rock" parody!
If you'd like an mp3 of the song, you can get it from the following sources:
This song will now be a staple in my retro gaming play list.
An original a-cappella arrangement of the Overworld song from the Nintendo Super Mario World video game:
To find out more about Smooth McGroove, check out these links:
Smooth McGroove does a ton of other a-capella arrangements of video game songs. You should definitely check out his links above!
DuckTales is back and shinier than ever thanks to Capcom and WayForward.
Check out this side-by-side comparison game footage and see how the Nintendo NES classic has changed:
Just the other day I was playing the original on my Nintendo NES. IMHO it's still a really playable game, but this remastered version looks amazing!
In North America, DuckTales: Remastered will launch on Tuesday, August 13th on PlayStation 3, Wii U, and PC. The Xbox 360 iteration will be available on Wednesday, September 11th. It will cost $14.99 USD when downloaded digitally. There will also be a retail version of the game released for PlayStation 3; it will cost $19.99 USD.
I wish they would release a retail version of the game for Xbox 360, but apparently it's only going to happen for the PS3.
Reverse Enginears is a digital creative agency that specializes in A/V re-sequencing. AKA "remixes."
Their remixes have been featured in advertising campaigns for Disney, Marvel and GM, and have been watched millions of times on YouTube and elsewhere.
Source: Video at Polygon
Walt Disney Animation Studios and director Rich Moore (TV's "The Simpsons," "Futurama") take moviegoers on a hilarious, arcade-game-hopping journey in "Wreck-It Ralph."
Ralph is tired of being overshadowed by Fix-It Felix, the "good guy" star of their game who always gets to save the day. But after decades doing the same thing and seeing all the glory go to Felix, Ralph decides he's tired of playing the role of a bad guy. He takes matters into his own massive hands and sets off on a game-hopping journey across the arcade through every generation of video games to prove he's got what it takes to be a hero.
Below you can watch the official "Wreck-It Ralph" movie trailer:
I can't wait to see this movie! "Wreck-It Ralph" crashes onto the big screen on November 2, 2012, in Disney Digital 3D in select theaters!
Check out this remake of the intro to MegaMan 2 that showcases sweet HD graphics and a killer rocking soundtrack:
Mega Man 2 for the Nintendo is in my Top 10 games for the NES.
Source: YouTube Video by rickonami
I'm a huge fan of Donkey Kong and as a child I loved playing with Legos. Put the two together and you get the following video:
Of course this isn't a perfect reproduction, but it's still a really good stop motion interpretation of Nintendo's Donkey Kong IMHO.
Well most of the framework is now in place for my collection pages, so now comes the fun part… to add pictures and detailed console pages for each system.
I've also got my Flash arcade game room up and running too, so be sure to check it out and see if you can get a high score on some of the games.
As the saying goes, I'll be adding more content to Golden Age Of Gaming as time permits. With that being said, the game is never over.
Check out this totally retro TV advertisement for the Nintendo Game Boy Advance SP Classic NES Edition:
I completely forgot this ad had music from the synth pop group Yaz. The song is called "Situation" off their 1982 album "Upstairs At Eric's".
There was a time when you couldn't step into a dance club or a roller skating rink without hearing at least part of this song booming over the sound system.
Anyway, back to playing some retro games on my Game Boy Advance SP NES Edition.
A few months ago I was working on Frogger for my Golden Age of Gaming free play game room.
Below are a couple screen shots from my work back then getting the basic concept, graphics, characters and layout in place: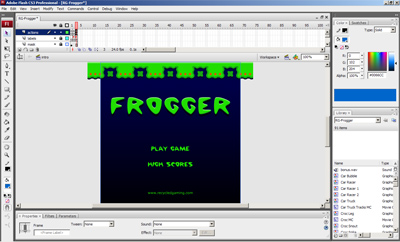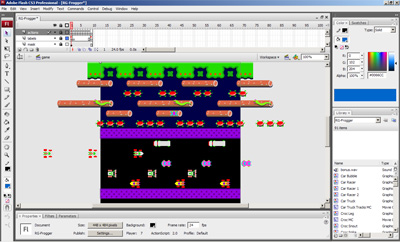 A few friends have sent messages asking what software I use to create such fun and colorful video games.
The short answer is the Adobe Flash CS3 creative suite.
When you get the chance, be sure to check out Frogger and see if you can get on the letter board.